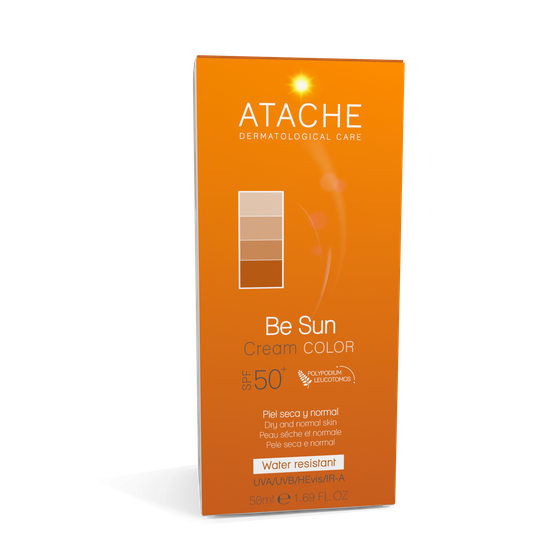 ATACHE Be Sun Cream Color SPF50+ 50ml
Μέγεθος συσκευασίας: σωληνάριο 50ml
Σύντομη περιγραφή
Σειρά Αντηλιακών ATACHE Be Sun:
Σειρά αδιάβροχων αντηλιακών προσώπου με SPF50+ που προσφέρουν προστασία έναντι των ακτινοβολιών UVA, UVB, IR και του Ορατού φάσματος της ακτινοβολίας. Περιέχει εκχύλισμα από το φυτό Polypodium leucotomos που διαθέτει αντιοξειδωτική και φωτοπροστατευτική δράση σε συνδιασμό με ένα ενεργό συστατικό που προστατεύει το δέρμα από τη ρύπανση του περιβάλλοντος.
Atache Be Sun Cream Color SPF50+ 50ml Αντηλιακό προσώπου με χρώμα
Κρέμα για ξηρά και κανονικά δέρματα.
Χαρίζει μια ελαφριά απόχρωση που προσαρμόζεται σε κάθε τύπο δέρματος.
Η ρευστή υφή της προσφέρει πλούσια και μεταξένια αίσθηση.
Η σύνθεσή της με ενυδατικά συστατικά σχηματίζει ένα προστατευτικό στρώμα εμποδίζοντας την διαδερμική απώλεια του νερού.
Nα ανακινείται πριν τη χρήση